Patna, (Bihar Times): Silao, a township about 15 km from Biharsharif on the highway to Rajgir, is known for variety of Khaja. As, of late, Rajgir and Nalanda have seen a lot of activities the Khaja business is likely to flourish more in the recent years.

The popular sweetmeat dish of the state is breaking new barriers and going global. However, it is the Kakinada Khaja, which is liked throughout for distinct charm.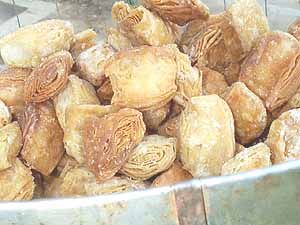 Kakinada Khajas are dry from outside and full of sugar syrup from inside and is juicy. Thus it is different from other varieties and melts the moment it is put into mouth. It is prepared from kneaded wheat flour that is rolled into circular shape in which Mawa (cottage cheese with certain additives) is stuffed.

Khaja has been flourishing as a cottage industry with many families claiming association with it for generations. Sanjay Lal, a prize winning Khaja Confectioner of Silao, has been making Khaja for the last four generations. He even went to Mauritius to attend Sagar Mahotsav.

Educated youngsters do not feel shy of joining the family business related to Khaja. As Rajgir and Nalanda are attracting more and more pilgrims, tourists and even academics the prospect of this cottage industry flourishing more is increasing.

Khajas are in great demand, particularly, during the wedding season. Kakinada Khaja is popular in neighboring states of Uttar Pradesh and West Bengal.

Although Khajas are prepared and sold almost throughout Bihar, the confectioners of Silao and Rajgir areas have a distinct edge over the rest. People traces the origin of Khaja centuries before the death of Christ.