Patna, (Bihar Times): Hardening his stand Bihar Chief Minister Nitish Kumar on Monday asked the Maharashtra government not to remain a mute spectator but take immediate action against the Maharashtra Nav Nirman Samiti chief, Raj Thackeray, nephew of Shiv Sena supreme leader Bal Thackeray.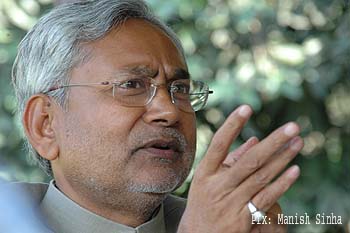 "Just filing one or two cases would not do. Does he understand the implications. Entire Mumbai will be uprooted," he told newsmen after Monday's Janata Ki Adalat. He made it clear that Mumbai belongs to every one and added that he would call on the Centre to intervene if the state government did nothing.

Nitish toughened his statement given a couple of days back after incident of violence on Sunday in which North Indians were deliberately targeted.