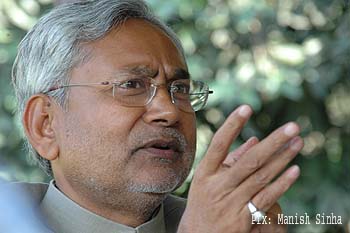 Patna, Feb 4: A day after describing Maharashtra Navnirman Sena chief Raj Thackeray as a "shaitan" (devil), Chief Minister Nitish Kumar Monday demanded stern action against Thackeray for his remarks against north Indians and the Chhath festival observed by people from his state.
"Merely lodging a case against Raj Thackeray will not do, tough action should be initiated against him," said a visibly agitated chief minister reacting to reports of violence against people of his state in Mumbai.

"It is a serious issue, Raj Thackeray-type elements have to be dealt with strictly; otherwise it may create more trouble," he said as people across the state took to streets in protest. They burnt Thackeray's effigies in Patna and other cities and also demanded action against him.

On Sunday, Nitish Kumar said Thackeray is like a 'shaitan' who has the habit of making remarks, in order to remain in the news, that hurt people's sentiments and create unnecessary controversy.

Thackeray, nephew of Shiv Sena chief Bal Thackeray, had described Chhath, Bihar's most popular festival, as a "drama" and questioned its celebrations in Mumbai every year as well as of the Uttar Pradesh foundation day.

Chhath, celebrated six days after Diwali, is a festival associated with the sun god. Married women observe fast during the festival, which over the years has become closely identified with Bihar.

Nitish Kumar said that Mumbai belongs to all, not only to one section of people. "It is wrong to project Mumbai as the sole property of the son of the soil. This kind of tendency has to be suppressed or it will pose a threat to national unity and integrity."

He also said he would consult his counterpart in Maharashtra for the safety and security of Bihar people living in Mumbai.
(IANS)