Patna, (Bihar Times): It can be termed by many as the propaganda overdrive. The Bihar government has decided to come out with special postcards priced at 25 paise––half the price of usual post cards, with the photograph of chief minister alongside his government's achievements adjacent to the space earmarked for writing the address of the recipient.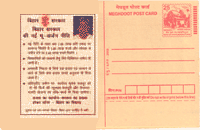 In the eyes of the public relation department of the state government postcards are still considered popular in the rural areas of the state. These special postcards will apprise the people of what the government is doing for them.

The other side of the special postcard would be left blank for writing. Surprisingly, the Bihar government has struck a deal with the Indian Postal Department to procure 5,00,000 special postcards, which would cost the state exchequer some Rs 10 lakh.

Named as Meghdoot the postcard will highlight the policies of the state government. The postcard would also encourage the citizens to use the RTI to know about the government and also to monitor the information related to development.
The contents of the news published in your paper if truely takes shape and PostCards becomes avalable for sale in the Post Offices of the country and quick delivery assured people shall like to obtain the card and use sending messeges to their loved ones. In this way the sender as well as the addresse shall be able to know the future plan and achievement of the Government of Bihar side by side the welfare of relatives.This Post Card can also be used in sending the grievances if any or demand to the concerned Government authorities. In short I like this proposal of the Government but the sale of the Post Card should not be confined to the State of Bihar only.
Shiva Nandan Prasad
Bangalore
Email:shiva_nandan@yahoo.com
India Business Directory