Patna, (Bihar Times): May sound unbelieveable nevertheless true. With 4.4 per cent post-1990 Bihar registered the fastest agriculture growth rate in the country. Ironically Punjab slipped into the leaguer of least-growing states. High fruit and vegetable production boosted agriculture in Bihar.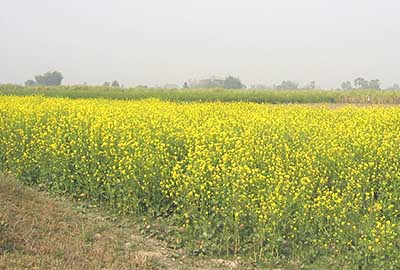 According to a recent study done by Prof Gurmail Singh of Department of Economics, Punjab University, Chandigarh, Punjab has slipped to the 14th slot in farm growth measured in 17 states, while Bihar has topped the list.

Punjab chief minister, Parkash Singh Badal, while talking to a business daily, admitted that his state has witnessed stagnation in agriculture with a mere one per cent growth.

He said that even though two per cent farmers of Punjab contribute 50 per cent foodgrains for the central pool, they have been denied remunerative prices for their produce by the Centre. This notwithstanding the fact that his party, Akali Dal, was an important constituent of the National Democratic Alliance, which ruled at the Centre for six long years during this period.

The Punjab chief minister is of the view that till the price of produce was linked with the price index, growth in agriculture would continue to stagnate or show a negative trend. He said the fate of the farming community was being decided by the Centre, while states were being kept out of the price fixing mechanism.

The Punjab government, according to him, had chalked out a comprehensive programme to improve soil health of agricultural land. Besides, new varieties of seeds were being provided and new techniques of farming and irrigation were being encouraged. Rupees 4,000 crore would be spent on the modernization of canals.

Dr Singh's study gives emphasis on impact of liberalization. It blames soil and technology fatigue, unfavourable weather and surge in import of edible oil and other commodities in the post-WTO period for dragging Punjab down. After maintaining a steady rate of over four per cent per annum for close to three decades, agricultural growth crashed to a low of 1.1 per cent during the 1990s. Population growth in agriculture brought about virtual stagnation of farm incomes for about 15 years. Efforts for diversification notwithstanding, the wheat-paddy cycle has intensified in the state.
Though the study did not take into account the sociological factor responsible for the rise of agriculture products in Bihar there is no denying the fact that empowerment of the farming castes, mostly backwards, in the post-1990 years and the occupational shift and migration of surplus population to the urban jobs have contributed to this big change in the state.
India Business Directory