Patna, (Bihar Times): The number of refugees living in various camps in the flood hit districts of North Bihar have come down from 4.5 lakh to just 15,000. This was conceded by the chief minister, Nitish Kumar, while talking to reporters at Janata Darbar on Monday.
He, however, denied that flood victims were being removed from the mega relief camps run by the state government. There is nothing further from truth. There is no shortage of resources.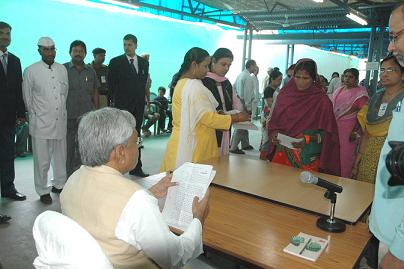 Nitish said the number of refugees has come down because water has receded and they have left on their own. He said that his government was awaiting the Centre's response on the proposal sent to it by the state government seeking Rs 14,500 crore for reconstruction of the devastated Kosi region.
The Prime Minister had declared the flood as a natural calamity and the state government expects the assistance to be at par of what was given to tackle tsunami tragedy and the earthquake in Bhuj. He also said that he favoured amendment in the norms of assistance given from the Calamity Relief Funds.