Patna, (Bihar Times): Though the capture, sale and purchase of elephants are banned in India, according to the media reports, they were still sold in the Sonepur Cattle Fair, which concluded recently.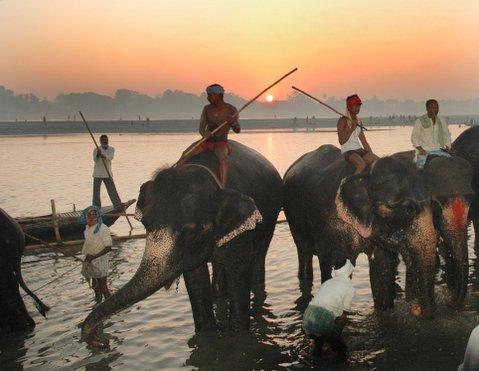 This is possible because those engaged in the business have devised a unique method to circumvent the law.

Temples in the southern states buy pachyderms at the annual Sonepur cattle fair. But what is more significant is that their trade has much to do with the rise of Bahujan Samaj Party in neighbouring UP as elephant is its election symbol.

Incidentally most of the elephants sold at Sonepur are out-of-job loggers from Assam and Arunachal Pradesh, where logging stopped following a Supreme Court order in 1996.

Reports also said that some 1,500 elephants are estimated to have lost their jobs. Unless used in illegal logging, their owners either send them out to beg or sell them to buyers from Bihar, Kerala and Tamil Nadu.

According to Jacob Cheeran, a Thrissur-based elephant expert there have been instances of people giving away their elephants free of cost or at throwaway prices. As most temples that can afford them already own elephants, their demand is driven by high mortality of the animals in captivity.

In north India, they can earn up to Rs10,000 a day for being present at political rallies, especially of the Bahujan Samaj Party. In the recent assembly elections in Delhi and at some places in Madhya Pradesh elephants were much in demand.

Transfer of ownership and movement of elephants from one state to another are restricted with permission needed from the chief wildlife warden of the state under Section 42 of the Wildlife Protection Act. But B N Jha, Bihar's chief wildlife warden, admits these restrictions have had limited success in containing the illegal trade in elephants.

"I am under tremendous pressure to restart issuing transit permits… (but) the laxities in the law defeat our attempt to be strict," he was quoted in a newspaper recently.

However, those engaged in elephant trade concede that their business was on the decline because of the restrictions on transfer of ownership. "Till some years ago, hundreds of elephants used to come here, but the number is steadily decreasing," says Surendra Nath Singh, whose seven-year-old animal was among the 66-odd elephants on display at the Sonepur fair this year.

However, some people still think that an elephant could be a great investment. For example one of those engaged in the business claimed that he bought an elephant from Assam for Rs nine lakh last year. And that he wanted to sell it for Rs 25 lakh this year. Some customers offered Rs 20 lakh to him but he can not legitimately sell it because buying and selling of elephants were banned in 2003. Those involved in the trade devised an ingenious way of bypassing the law.

One of them said he would give the buyer a daan-patra (deed of gift) saying that he had given his elephant as a gift as he was unable to take care of it any more. Then, you could pay me the agreed price in cash.

Not to speak of temples in South India even mosques and churches have started keeping elephants because of the donations they bring in, S S Bist, managing director of West Bengal Forest Development Corporation and former director of Project Elephant said.

Kerala alone was found to have some 800 captive elephants when a census was done in 2000. Experts are of the view that their figure has gone up to 900 now.
comments...